What is Work with Purpose? This is an important distinction whenever we are focused on veterans and employment. Too often, the monthly or annual veteran unemployment number is what draws the most attention. This number, per the March Jobs Report, currently stands at 2.4%. While the unemployment rate is a bellwether of the economic health of our veteran population, it only tells part of the story—a much smaller part of the story.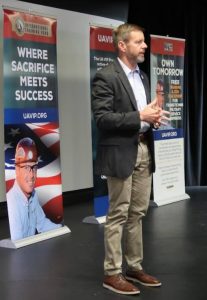 It's important that we understand what unemployment looks like for veterans, it is just as important to understand what underemployment looks like as well. Being in a job where you have far less responsibility than you had in the military and the leadership, teambuilding, and the ability to adapt that you developed in the military are not recognized, or may not be held in high regard. On top of that, the difference between what you are making in a minimum wage, entry-level job is tens of thousand dollars less than what you earned in the military.
Underemployment creates a downward spiral that leads to other issues—living paycheck to paycheck, loss of self-esteem, increased stress and anxiety, and barriers to accessing high-quality healthcare.
At Dixon Center for Military and Veterans Services, our approach is to partner with organizations and programs who make countering veteran underemployment part of their core mission.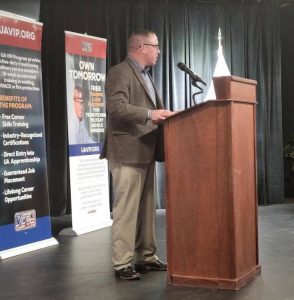 The United Association, a labor union that represents workers in the plumbing and pipefitting industries, is one of our partners and is a leader in creating opportunities for transitioning service members and their families. Through their Veterans in Piping program, an 18-week course that provides industry-recognized certifications in welding, fire sprinkler fitting, and HVAC-R (heating, ventilation, air conditioning, and refrigeration), service members are leaving the military with guaranteed employment, enrollment into a registered apprenticeship program, and a career that provides middle-class wages from the outset, healthcare, and benefits. Dixon Center assists in integrating service members and their families into the UA VIP program by introducing the service members to wellness programs, that assist with finding a home, financial counseling, physical and mental health support, legal services, and more.
The UA VIP program is directly attacking veteran underemployment and is the recipe for long-term success for service members once they depart the military. This partnership, which along with Dixon Center, also includes the Department of Defense, is making a real difference in the lives of veterans and their families.
This is Work with Purpose.