Reflecting on Our Exceptional Fathers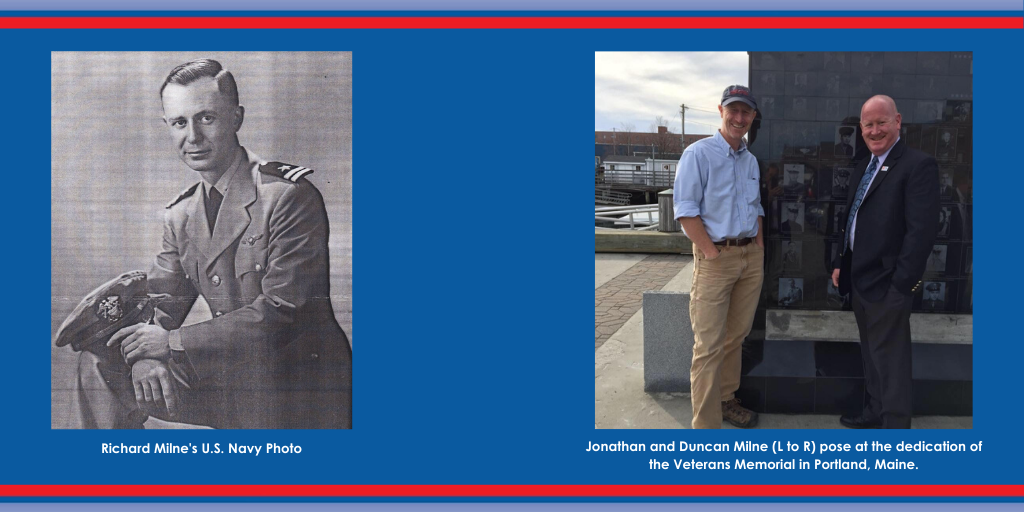 This Sunday we will celebrate Father's Day, and we asked Dixon Center for Military and Veterans Services President Duncan Milne to reflect on how his father impacted and influenced his own military journey.
"Even in the harsh environment of post-depression New England, my dad knew that his potential was only limited by his imagination and his willingness to work hard.
"At the first opportunity, he joined the Navy, becoming a naval aviator. He flew PBY Catalina seaplanes throughout World War II's "Battle for the Atlantic."
"Upon his return, Dad took advantage of the GI Bill, studying mechanical engineering at Rensselaer Polytechnic Institute. I was proud to follow in his footsteps there many years later.
"As a Department of the Army engineer, he designed and fielded crew-served weapons. He was never destined to make great fortune, but instead desired to enable every one of his seven children to chart their own course in life. There was no family edict and no coercion. There was simply the unending support for whichever path you chose. Never one to talk about his own performance, Dad instead preferred to bask in the achievements of his family, particularly his children.
"One brother and I followed his footsteps and entered naval service. True to his nature, Dad only showed me support and encouragement although I'm told that he had concerns that the U.S. Marine Corps was the most difficult and dangerous branch of our services. When I was faced with my toughest challenges, my father would remind me that 'thousands have overcome this challenge before, and you're better than the vast majority of them.'
"Like many of the Greatest Generation, Dad rarely discussed his experiences in World War II, not thinking that any of his actions were exceptional. And yet that is exactly what he was….nothing less than exceptional.
"I miss you Dad. Happy Father's Day!"