Congratulations to our partner, Burn Pits 360!
Among organizations that support veterans, your impact is not measured by the number of employees you have, or programs you offer, or the size or status of your board of directors. It's measured by your passion and commitment to improving the lives of veterans and their families.
There is not a better example of this than Burn Pits 360, a veteran organization that is laser-focused on improving the lives of veterans who have been exposed to the toxic smoke produced by unregulated burn pits in Iraq and  Afghanistan. I've  known Rosie Torres and Captain (Ret.) Le Roy Torres, the founders of BP 360, for the last three years and their relationship with Dixon Center goes further back than that.
You will not find two people who are more dedicated to ensuring that veterans, who are suffering from rare cancers and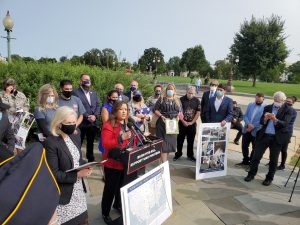 respiratory diseases from their burn pit exposure, receive the care and treatment that they deserve.
They have marshalled resources and created coalitions that are confronting the bureaucracy of the VA and providing hope to those that have been impacted by burn pits. When others have advocated for a slower, more cautious, deliberative approach, BP 360 has accelerated their efforts because they know that time is not on the side of those that have been exposed to burn pits. 
Their accomplishments . . . the VA has recognized the connection of three respiratory conditions and nine cancers to a veteran's military service, making them eligible for disability compensation and treatment. Both the Senate and the House have developed and passed legislation that will further increase the services and treatment that veterans receive due to exposure to burn pits.
And Rosie and Le Roy are not stopping . . .
they understand that the burden of wartime service should not be borne on the shoulders of our veterans and their families, and they continue to push Congress and the VA to honor our sacred commitment to our veterans.   
Dixon Center, through our influence, ideas, an d actions, is assisting Burn Pits 360, reach their goal of ensuring that veterans Heal with Honor and  making the lives of veterans and their families better.