THERE HAS BEEN PROGRESS, BUT MUCH WORK REMAINS
You can't overestimate the importance of a safe, secure environment, a home, to the overall well-being of veterans and their families. Yet, even with the progress we have seen countering veteran homelessness in recent years, there is still much work to be done.
This was one of the messages during the recent National Coalition for Homeless Veterans Annual conference. NCHV is a national organization that helps shape public policy on ending veteran homelessness, advocates on behalf of homeless veterans, provides research on the complex issues surrounding veteran homelessness, and builds the capacity of organizations that are tackling veteran homelessness in their communities.
It's clear that we are moving in the right direction—in 2020, there were just over 37,000 veterans who were homeless, a decrease of 6% from the previous year, along with a 10% drop in veterans using emergency shelters. But . . .
Veterans are still more likely to be homeless than non-veterans.
Black veterans are over-represented among the homeless veteran population (33%).
While numbers appear to be trending positively—COVID-19 severely impacted the ability to get accurate point-in-time counts of the homeless veteran population the last two years.
COVID-19 also significantly impacted the ability of community-based organizations that are on the frontlines attacking veteran homelessness.
3% of service members leaving the military are likely to be homeless within two years of separation.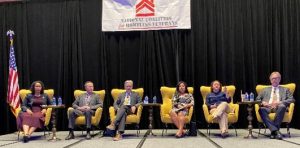 And we are also seeing increased pressures that could reverse the positive trends that we have seen in recent years—an economy buffeted by high inflation and the threat of recession, loss of COVID-19 protections against evictions, a tight housing market which has downstream impacts on the rental market—making it harder for most Americans, including veterans, to access affordable housing.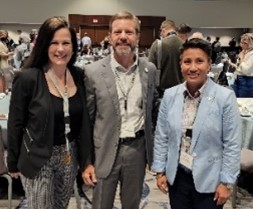 The high turnout at the NCHV conference is indicative of the passion and commitment of those that are continuing the fight against veteran homelessness. The theme of this year's conference was Coming Together: Facing the Future—and that collaborative spirit was evident among the different groups that were present. Dixon Center for Military and Veterans Services looks forward to sharing the best practices discussed at the conference and continuing to work with our partners to ensure that veterans and their families Live with Hope–living in a safe, secure, and comfortable environment in harmony with a local community.