Workforce Development: Partnership and Pathways to Civilian Careers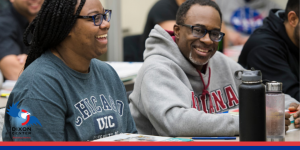 One of the most critical times for military service members is the reintegration from active service to veteran status. The transition from the military to a civilian career can be particularly challenging. That's why Dixon Center puts an emphasis on Workforce Development for these transitioning veterans, as well as their spouses struggling to find stable employment through deployments and changes of station.
Dixon Center has fostered a series of connections to eliminate major barriers in this transition. Partnerships with Utility Workers Military Assistance Program (UMAP), the Teamsters Military Assistance Program (TMAP), US Army Soldier for Life, and others provide veterans and their families access to employment training, credentialing, and connections to community resources. To date the UMAP/TMAP programs have provided training to over 2,700 service members, veterans, and family members with an employment success rate of 98%.
Army Staff Sergeant Michael leveraged the chance to participate in industry training in the final months of his military service. He started his civilian career with ABF Freight after receiving his commercial driver's license through TMAP at Fort Riley, Kansas six weeks before his military separation.
TMAP's joint venture with the U.S. Army's Soldier for Life program offers veterans classroom and hands-on training in the transportation industry and employment opportunities upon successful completion of the program. Additionally, Dixon Center connects these veterans and their families to wrap-around family services through its network of partners and community-based organizations across the country. These services include non-work-related assistance such as childcare, transportation, housing, and more that are necessary for a veteran or spouse to hold down a job. Michael's participation in these programs meant that his family of four wouldn't worry about finances, medical benefits, or family services. Today, he is using the skills he developed as a non-commissioned officer – coaching, teaching, and mentoring soldiers – to drive his new team at ABF Freight. Knowing his family is secure and healthy means he can focus on the job at hand and enjoy a high level of job satisfaction.
Four months into his first post-military job, ABF Freight offered Michael a chance to return to TMAP as an instructor to teach other service members, like himself, looking to transition successfully to civilian life.
Up to 250,000 service members depart the military every year with high-level skills that make them perfect to fill our nation's workforce. At Dixon Center, we work with together with our partners to seamlessly address the needs and recognize the value of these transitioning service members. Our partners in Workforce Development are leveraging professional operations to achieve real impact for our nation's veterans and their families.
You can learn more about our Workforce Development program here. Be sure to also visit our partners working to build pathways for veterans and their families to civilian employment in their communities.