How One Man's Desire to Help Impacted 1.4 Million Veterans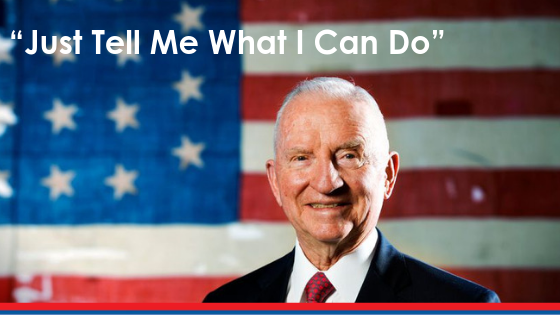 It seems prescient that Ross Perot's death this past Tuesday coincides the week of Dixon Center for Military and Veterans Services' seventh anniversary. Perot was one of the first champions of a center for excellence that would connect the dots between organizations and individuals who wanted to assist veterans with those in the community who would be able to go about it.
I first met Perot in my role as Special Assistant to the Chairman of the Joint Chiefs of Staff, where I served as the point man for the office of Warrior and Family Support. This meant traveling the country, aligning local support for veterans and their families among government agencies, organizations of all sorts (nonprofit and benevolent, faith-based, employers), educators, and wellness providers.
I needed a champion in Dallas – someone whose patronage would provide impetus for these myriad organizations to collaborate. As a Naval Academy graduate and national influencer with deep ties across Texas, Perot was one of the top candidates to fill this gap.
Surprisingly, Perot answered his own phone, and he immediately expressed interest, although not how I expected. He asked, "What do you need, Colonel? Do you want a check?"
My response that the goal reached far beyond funding did not throw him. In fact, it resonated with him. Like most Americans, he knew that he had the platform and network to help but didn't know how to use it. He just needed a little bit of guidance to be off and running.
This response – an immediate desire to better the lives of veterans and military families predicated on knowing what to do – became the impetus for the creation of Dixon Center.
As we celebrate Dixon Center's seventh anniversary on 13 July 2019, we also celebrate how Perot captured the so-called Sea of Goodwill for America's service members: "Just tell me what I can do to help."
I realized at that moment, in 2010, that this goodwill ran through the core of our country's citizens. They wanted (and still do) to assist, but were simply not sure how to do so.
America needed a center of excellence, a place with staying power where people and organizations could come for relevant advice, consultation, and leadership. Two years later, upon retiring from the U.S. Army after 29 years, we founded Dixon Center.
Today, we work in concert with our parent organization, The Fedcap Group, to ensure that our veterans and military families can succeed where they live.
Since 2012, our team of experts has worked with communities, organizations, and individuals so that they can find strategic, practical solutions for the most challenging issues facing today's veterans and military families. We are familiar with the grassroots solutions that work – and those that may need some fine-tuning.
As a result, Dixon Center has become the "go-to" resource for employers, educators, wellness providers, certification and training institutions, service-minded individuals, and those who want veterans to reach their potential and participate fully in their communities.
Our goal is not to create new programs. Rather, the goal is to enable the integration of military and veteran services into existing programs and groups in order to increase impact. And it works. Since inception, our collaboration has impacted 1.4 million individuals and organizations.
It is with great pride that I reflect on our seven years, and it is with gratitude that I acknowledge everyone's contributions to our success.
Happy Anniversary, Team!