Help Us Raise $250K for Female Veterans Support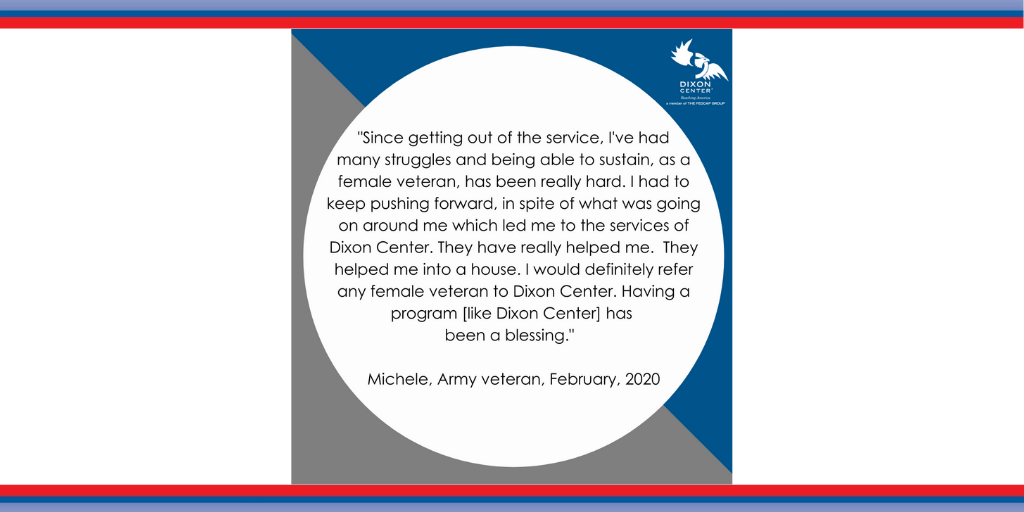 Female veterans find themselves at or close to the top of the list of those impacted by COVID-19 – and that's not a list that anyone wants to be on.
To offset the effects of the pandemic, Dixon Center for Military and Veterans Services has launched a campaign to immediately raise $250,000 for our nation's female veterans.
Even before the pandemic, female veterans, who number over 2 million, faced increased rates of homelessness, suicide, and significant health concerns. Now those challenges are further heightened.
The dollars raised will be used for emergency relief for 100 female veterans, as well as earmarked for emergent needs and crisis prevention, a hallmark of Dixon Center's strategic positioning to advance impact.
Asking for contributions during a pandemic is tough. Yet a pandemic does not discriminate. These female veterans have given years of their lives to ensure we have our freedom. Now they are looking for your generosity so that they can overcome unexpected events in their lives.
You can donate in two ways: contribute via our secure online donation page online or contact Vanessa Stergios, Director of Development, at vstergios@dixoncenter.org.