On August 14, 2020 Dixon Center for Military & Veterans Services launched the first episode of Service Before Self, a podcast that tackles the evolving needs of veterans and their families, based on the idea that veterans can succeed in the communities where they live. This podcast will introduce you to people and the programs that are having an impact today; you will hear about their successes and lessons learned in creating effective programs in which veterans and their families reach their full potential.

Retired Army Colonel Sam Whitehurst, your host, the Dixon Center Vice President of Programs & Services, is diving deeply into the needs and challenges veterans and their families go through, as well as into the effective solutions to those challenges.

Listen here to Episode 001: Rick Passarelli: Forging New Pathways to Careers with Purpose for Veterans and Their Families
In this inaugural episode, Sam is joined by Rick Passarelli, who is the Director of Veteran Affairs and Workforce Development at Utility Workers Union of America (UWUA) and the chair for the workforce development subcommittee for the AFL-CIO Union Veterans Council. Rick is the architect behind one of the most impactful workforce development programs for veterans in the country, the Utility Workers Military Assistance Program (UMAP).

Rick enlisted in the U.S. Navy in 1982; he served from that date until 1987 and participated in two deployments. After leaving the Navy, Rick joined Peoples Gas, one of the largest regulated natural gas utilities serving the city of Chicago, where he just recently retired from, after 32 years.

Rick shares some of his very distinguished career of service to our country as well as what has made UMAP such a successful program for veterans.

Supporting veterans and their families is a life's calling for Rick, and he speaks to the importance of programs that provide pathways to careers that provide meaningful wages, access to affordable healthcare, and benefits that allow veterans to plan for and invest in their future. 

This is the underlying philosophy of Dixon Center for Military and Veterans Services Operation Workforce Development. Working nationally and locally we are collaborating to create a pathway to family-wage careers with full benefits for veterans and their families.  For us, and for our partners like Rick and his team at UMAP; it's more than finding a job for veterans—it's about careers that provide work with purpose and ensuring that veterans and their families succeed in the communities where they live.

Subscribe To/Follow Service Before Self Podcast
​Whether you are an avid podcast fan or new to the medium, we invite you to give Service Before Self a listen. We invite you to listen and subscribe to the podcast. We welcome your feedback and will be reading your reviews and comments on Apple Podcasts, Spotify, Google Podcasts or one of the many other distributors.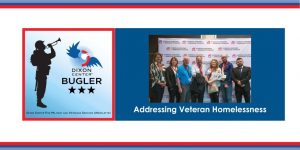 Last week, Colonel Duncan S. Milne, U.S. Marine Corps (Ret.), President, and Eileen Greenlay, Manager, Donor Relations of Dixon Center for Military and Veterans Services