The Key to Supporting Veterans and their Families Where They Live . . . Collaboration!
As a Soldier, you are always focused on security, always prepared for threats, no matter the direction. You are taught to be especially vigilant against threats from the direction where you expect them the least, from behind you. In the Army, we refer to this as ensuring that someone is always watching your "six," or making sure someone has your "six" covered. That approach is found in all facets of military service—30 years as a Soldier, I always knew, that no matter the circumstances, I could always count on my fellow Soldiers to have my back, to cover my six.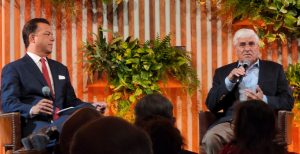 That approach describes the Got Your 6 (GY6) Network, an initiative sponsored by the Bob Woodruff Foundation. GY6 is a network of communities, working together to impact the lives of veterans and their families in the communities where they live.  The GY6 network steers tools and resources to their national network of local partners, increasing their capacity and creating  a collaborative community that shares solutions to the evolving needs of veterans and their families—always ensuring that someone is covering their "six."  
Recently, GY6 hosted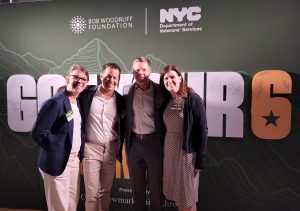 the Got Your 6 Summit in New York City, bringing together community-based organizations that provide services to veterans and their families in New York. It was a day of collaboration as individuals and organizations shared what was working, what wasn't, and developed innovative ideas to increase the well-being of veterans and their families.
Creating an environment where veteran serving non-profits, governmental organizations, philanthropists, academia and research organizations, and the private sector can come together and work toward a common objective is what made the GY6 Summit so successful.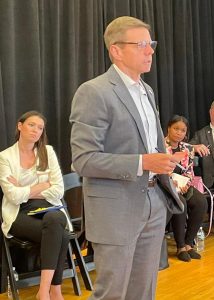 This approach of increasing the capacity of organizations that serve veterans through collaboration, training, and resources also defines how Dixon Center for Military and Veterans Services makes the lives of veterans and their families better across our three pillars of work, Work with Purpose, Heal with Honor, and Live with Hope.
Dixon Center looks forward to continuing to work with the Bob Woodruff Foundation, the Got Your 6 Network, and our other partners who are increasing the well-being of veterans and their families across the country
Photo One: John Avlon, CNN Sr. Political Analyst and General George Casey, 36th Army Chief of Staff at the Got Your 6 Summit
Photo Two: Meg Harrell, Bob Woodruff Foundation; Rajeev Ramchand, RAND; Sam Whitehurst, Dixon Center; and Carrie Farmer, RAND
Photo Three: Colonel (R) Sam Whitehurst, Dixon Center, at the Got Your 6 Summit