On Tuesday, August 2, 2022, the Senate passed historic legislation that will deliver all generations of toxic-exposed veterans their long-overdue VA health care and benefits. Named in honor of a veteran who died because of toxic exposure during his military service, the Sergeant First Class Heath Robinson Honoring our Promise to Address Comprehensive Toxics (PACT) Act will ensure that 3,500,000 toxic-exposed and post 9/11 veterans recevie the treatment they have earned, establishes 31 new VA facilities across 19 states, and boosts VA's claim processing capacity and strengthen's VA's workforce.
On Wednesday, August 10th, the PACT Act will become law when President Biden signs it in a special ceremony in the Rose Garden of the White House.
If you are an organization that supports veterans and their families, or if you are a veteran and believe you may be eligible for treatment and support due to your exposure to environmental toxins (e.g. burn pits), you can learn more about the PACT Act at VA.gov/PACT or by calling the VA at 1-800-MyVA411.
The PACT Act will benefit millions of veterans and there are many individuals and organizations who have been instrumental in passing this transformative legislation. But there are two people who stand out in their commitment and perseverance, Rosie and Capt. (Ret.) Le Roy Torres from Burn Pits 360. They have been on the forefront of this issue for years and it is no overstatement to say that it would not have passed without their leadership.
Burn Pits 360 is emblematic of the partners that Dixon Center for Military and Veterans Services works with across our three pillars of work, Work with Purpose, Heal with Honor, and Live with Hope.
Dixon Center looks forward to continuing to work with Rosie and Le Roy at Burn Pits 360 in our noble purpose making the lives of veterans and their families better.
It's important that we understand what unemployment looks like for veterans, it is just as important to understand what underemployment looks like as well. Being in a job where you have far less responsibility than you had in the military and the leadership, teambuilding, and the ability to adapt that you developed in the military are not recognized, or may not be held in high regard. On top of that, the difference between what you are making in a minimum wage, entry-level job is tens of thousand dollars less than what you earned in the military.
Underemployment creates a downward spiral that leads to other issues—living paycheck to paycheck, loss of self-esteem, increased stress and anxiety, and barriers to accessing high-quality healthcare.
At Dixon Center for Military and Veterans Services, our approach is to partner with organizations and programs who make countering veteran underemployment part of their core mission.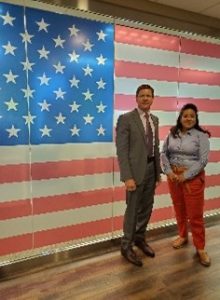 The United Association, a labor union that represents workers in the plumbing and pipefitting industries, is one of our partners and is a leader in creating opportunities for transitioning service members and their families. Through their Veterans in Piping program, an 18-week course that provides industry-recognized certifications in welding, fire sprinkler fitting, and HVAC-R (heating, ventilation, air conditioning, and refrigeration), service members are leaving the military with guaranteed employment, enrollment into a registered apprenticeship program, and a career that provides middle-class wages from the outset, healthcare, and benefits. Dixon Center assists in integrating service members and their families into the UA VIP program by introducing the service members to wellness programs, that assist with finding a home, financial counseling, physical and mental health support, legal services, and more.
The UA VIP program is directly attacking veteran underemployment and is the recipe for long-term success for service members once they depart the military. This partnership, which along with Dixon Center, also includes the Department of Defense, is making a real difference in the lives of veterans and their families.